TLTA 2020 Virtual Annual Conference Sponsorship
We are excited to continue our sponsorship of TLTA and the 2020 Virtual Annual Conference.
As a proud sponsor, COCRS supports TLTA and all its members. Unfortunately, this year we don't get to see everyone in person at the convention. However, we look forward to talking with you virtually and helping you to thrive through the many changes we've all experienced!
If you don't know what we do, COCRS provides streamlined access to Property Tax Certifications, HOA documentation, and Title Search information. Our system provides nationwide data access for every user.
For the Texas market, those can be narrowed to these two main products. Both of which can easily be ordered on our site, once you have an account on our user portal.
Validated Tax Certificates
Property tax document generated by COCRS from known and available tax resources related to a specific parcel/property. This insured document provides details of the recently due tax year, shows the breakdown of taxes assessed, the payment status and any balances due.
HOA Packages
Home Owners Association Full Package, also known as Resale Package. Verified HOA and/or management company contact information and current balances, unless withheld or unavailable. Includes status letter(s) and CIC Files. Standard CIC documentation typically includes original legal documents, recent meeting minutes, current financials, update policies, etc.
Ordering Process
From our user portal, the process to order any documents is extremely simple. Simply pick the county from the drop down list, enter the property details. If the property details are in our system, select the match. If the property doesn't match, the system will prompt for additional information. Then select the boxes for the documents you need and we'll return them when ready by email.
Meet Michael Brooks
Many of you may have already spoken with or met Michael virtually. As the dedicated Sales Representative for our Texas clients, he's here to answer all your questions. The video to the right is a quick intro to him and what we at COCRS do for our clients.
Talk with Us
We will have someone at our table in the Exhibit Hall during the convention. Feel free to come meet us there. If you'd rather have a one-on-one, dedicated conversation, schedule a short intro meeting with Michael using this link:
Enter to win this "Texas Pride" Boxanne™ bluetooth speaker and add music to your work environment (and everywhere else).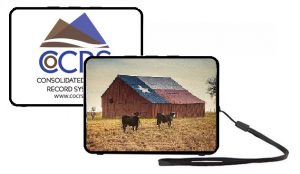 This portable bluetooth speaker provides incredible sound thanks to its built-in subwoofer The pocket-sized Boxanne™ carries an enormous punch. Use the included looping strap to attach the Boxanne™ to any bike, backpack, or bag and play the soundtrack to your next adventure.
If you need to take a call, its built-in microphone makes sure your calls are just a button away.